Alison is the co-owner of Simply Pilates and Master Trainer for Peak Pilates®.
Alison was very lucky that she was able to start dancing and Yoga at a very early age as her parents are very active people, and this instilled a love for movement.
After completing her Bachelor of Science degree, she moved to New York and lived there for 5 years where she found her true passion – Pilates. She feels very honoured and blessed to have been mentored  by the amazing Pilates Masters Susan Moran, Peter Roel and Bob Liekens.
After returning to Australia to start her Pilates studio here in Melbourne, she was asked to join the Peak Pilates® Instructor Training Team and was able to further her training with the illustrious Master Trainers, Clare Dunphy, Colleen Glen and Zoey Trapp. Alison is very proud to be part of the Peak Pilates® global Master Instructor Team and to be able to offer their Teacher Training Programs right here in Melbourne.
With great privilege Alison has been able to train Instructors in Japan, Indonesia, New Zealand and Australia. To participate and present in a number of Fitness Conventions in New York and Idea in Las Vegas as well as Filex.
Her passion is people and Pilates and and the amazing effect that classical Pilates has on changing the body. She loves helping people to feel good and making them happy. Alison believes in healthy exercise, healthy nutrition and happy soul.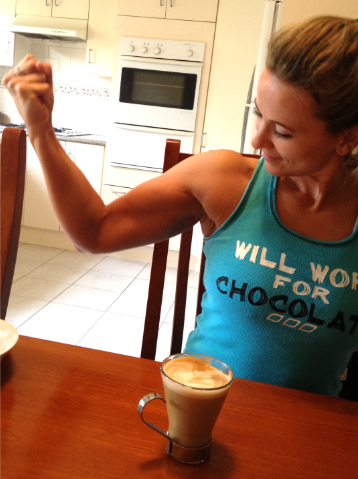 I have been in the Pilates industry for over 15 years, and along with Alison I am the co-owner of Simply Pilates, and an international Peak Pilates Master instructor.
My passion in life is Pilates and movement. I love to share my knowledge, experience and passion for exercise with others. Throughout my 15 years of experience I have attended, as well as conducted numerous courses and workshops in Authentic Pilates, anatomy, teaching and presentation skills, stretching and functional fitness, to name just a few. I also love teaching the Barre method, and thoroughly enjoy bringing this fun workout to people.
I have traveled extensively, teaching and learning about Pilates and fitness. My passion lies in bringing my love and knowledge of Pilates to enrich people's lives. I also enjoy running, weight training, reading, chocolate and watching True Blood.
'Physical fitness is the first requisite of happiness.' – Joseph Pilates
Cathy began her Pilates journey fifteen years ago, when she became a client of Simply Pilates, whilst working in Private Practice as a Physiotherapist. From a fitness perspective she had experimented in Yoga, Gym and running but Alison and Sandra at Simply Pilates made the experience of attending Pilates inspiring, effective and addictive! So much so that she undertook the Peak Pilates Instructor Training course. She is still a physiotherapist and a busy mum of 2 boys, so she knows that Pilates is a necessity and focal point of anyone's health and well being.
Louise first discovered Pilates in her native England over 15 years ago. She joined the Simply Pilates studio as a client in 2005 after moving to Australia with her family and has been a committed client and now instructor ever since. Having suffered chronic back pain for many years, Pilates has helped restore flexibility and strength. She is passionate about classical Pilates and the many benefits of this movement system and feels immensely privileged to be able to share the discipline with others.

Louise is married with two adult sons and a teenage daughter. The family is mad about sport and fitness, are all keen tennis players, and have been hugely supportive to Louise whilst training.

She has been lucky enough to travel widely, loves France and the French language, cooking, tennis and skiing. She holds a private Pilots Licence in both Australia and the UK and is a Cordon Bleu trained cook.
Hi my name is Sophia, born and raised in Melbourne. I have worked in the fitness industry for 15 years, I enjoy weight training and utilise my cardio outdoors. I have a son and fur daughter, I enjoy traveling and have had the privilege to live in South Africa working closely with wildlife. My journey with Pilates began in my mid30's, slowly working through my own rehabilitation from a lower back injury, where I found my passion to help others achieve their own health and wellness goals. I cannot emphasise enough the need for quality movement and posture. Pilates, strength training and anything fun and challenging is what inspires me and I won't stop until I help you achieve your fitness goals!
"Pilates develops the body uniformly, corrects wrong postures, restores physical vitality, invigorates the mind & elevates the spirit"  -Joseph Pilates
Emma has been a client of Simply Pilates since 2016 and since completing her Barre Pilates Instructor course with Barre Body she has shared her knowledge and passion in her Barre classes. Emma is currently attending university and has a strong background in dance with over 12 years of experience. She trained at Brighton Dance Academy, taking ballet, jazz, contemporary and acrobatic classes, as well as teaching younger levels in ballet and acrobatics. This has given her a great foundation for her Pilates teaching as she incorporates elements of both dance and Pilates into her classes.
Tuesday
6:00 AM

-

8:00 PM
Wednesday
6:00 AM

-

8:00 PM
Thursday
6:00 AM

-

8:00 PM
Saturday
8:00 AM

-

12:00 PM
SIGN UP TO OUR NEWSLETTER